Periodontal disease is a disease that affects the gums, the roots of the teeth and the bone that encases the roots of the teeth.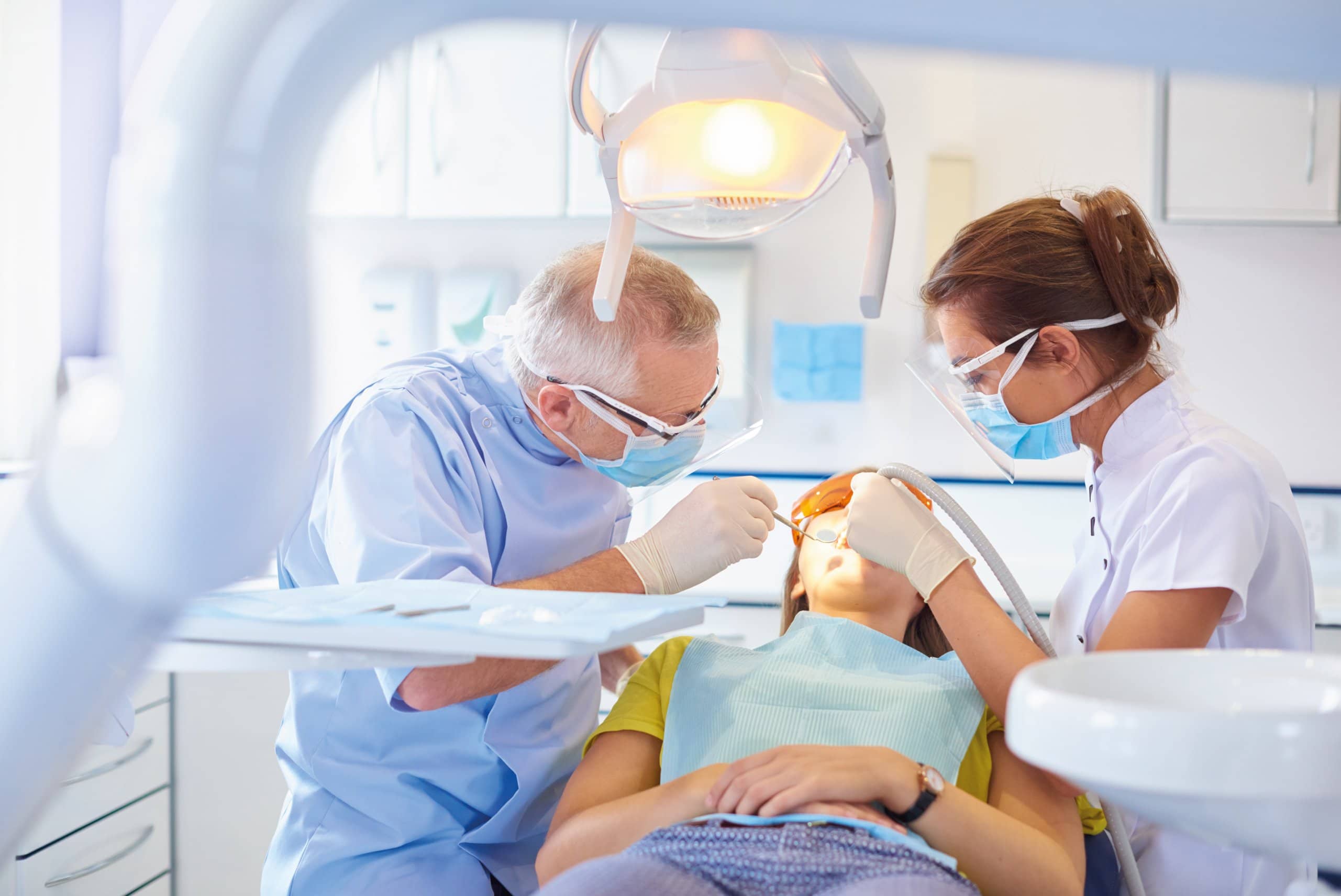 What is periodontal disease?
In its simplest form, periodontal disease presents as a gingivitis or inflammation of the gums. The gums will appear reddish, swollen and may bleed during brushing or eating. Some people also suffer from halitosis or bad breath. Gingivitis is the result of the body's response to bacteria that build up on teeth in the form of plaque and tartar.
If gingivitis is left untreated, it can progress to periodontitis, which is when the inflammation spreads below the gums, along the roots of the teeth, into the underlying bone. Untreated periodontitis leads to gum recession, loose or wobbly teeth, problems with chewing and speaking and eventually, the loss of teeth.
In addition to bacterial plaque and tartar in the mouth, other risk factors include smoking, poor diet and stress. However, periodontal disease does not only affect your mouth, it is also linked to diabetes, heart disease, hypertension, strokes, dementia and Alzheimer's disease.
Gum diseases can also affect the tissues around dental implants. These are known as peri-implant diseases. With poor oral hygiene, bacteria build on the implant and causes inflammation of the gums that surround the implant. This is called peri-implant mucositis and if not treated, can progress to peri-implantitis, which involves more inflammation and destruction of the bony foundation around the implant. The implant then becomes loose and may eventually need to be removed in a surgical procedure.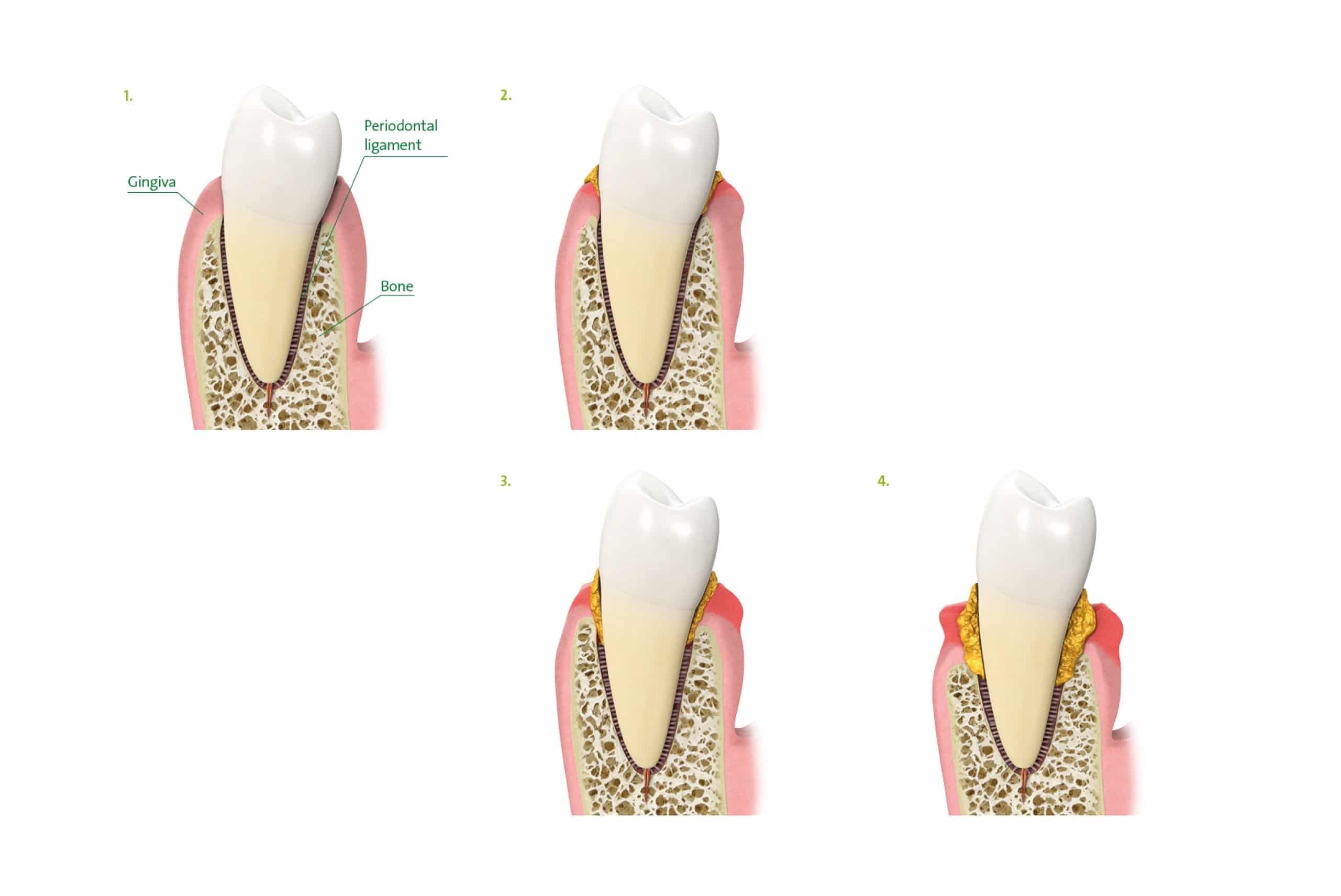 Regardless of whether we are treating periodontal disease around teeth or peri-implant disease around implants, the treatment phases are as below:
A comprehensive assessment of your gum and bone health including X-rays, photographs and microscopic assessment of the presence of disease-causing bacteria.
This is accompanied with a plaque control phase to reduce the number of bacteria in the mouth and thereby reduce the level of inflammation.
Non-surgical periodontal therapy is the next phase where all bacterial deposits (plaque and tartar) are removed from accessible areas of the teeth and their roots. For patients with advanced periodontitis, several appointments for teeth cleaning may be necessary.
Antibiotic therapy – in some severe cases, antibiotics are also prescribed in conjunction with non-surgical treatment.
Regenerative periodontal therapy is also used to treat residual deep pockets. This involves using either proteins or bone-replacement grafts and membranes to reconstruct bone that has been lost because of periodontitis.
Aftercare
Aftercare – supportive periodontal therapy. The long-term success of periodontal treatment depends on two factors: the patient's own oral hygiene and regular care at our practice. Once the disease is brought under control, we will review the condition of your gums at regular intervals to ensure that the disease is well controlled. The frequency of your follow-up appointments will depend on your risk profile.
If you have any of the signs and symptoms discussed above, please feel free to contact us for a consultation.
What are the stages of periodontal disease?
There are 4 stages of gum disease. The first is gingivitis which is commonly shown through inflammation of the gums. Stage 2 is initial periodontitis. Stage 3 is mild periodontitis and stage 4 is progressive periodontitis.
Is periodontal disease reversible?
Stage one of periodontal disease known as gingivitis is the only stage in which periodontal disease is reversible. Once you have reached the second stage of periodontal disease, the infection has spread to the bone, it can be managed but not reversed.
What happens if periodontal disease is left untreated?
If left untreated, then periodontal disease can loosen teeth and eventually lead to tooth loss.
Periodontal Disease Price list
Membership
Levitas Dental Clinic Practice offer an optional membership which includes 7 day access to GP appointments and 10% discount on selected services within the Practice.
All services are also available to non-members.
Book your consultation for Periodontal disease
"Thank you so much for your amazing registration check up.  I came back and told my family what a treat they were in for in a couple of weeks.  I was super impressed with the whole experience and I'm a nervous patient when it comes to being in the dentist chair.  I didn't even think about most of the procedure because your calm and positive explanations were perfect and your team were brilliant too."
- N
"I was very impressed and my teeth were amazingly shiny and clean after the hygiene treatment.  I will definitely be joining the dental practice as well as the medical. Best wishes and thank you again to you all for looking after so well and making the experience so brilliant."
- G
"I visited the practice for a beauty treatment for the wrinkles on my forehead. Dr Lovepreet and nurse Pujan were amazing. The experience was wonderful and the treatment was wonderful. I would really recommend the practice if you are looking to get some anti-ageing treatments done yourself or for family and friends."
Natalia 
"I would highly recommend Levitas Dental Clinic. I visited the practice last week for teeth whitening and all the staff were super friendly and so professional. Will definitely be going back. "
- Elena
"The mews practice is one of the best practice i have came across.Staff members are welcoming very helpful , friendly.I had an appointment with Lovepreet she was the best and makes me comfortable to share any doubts and cleared all my queries.Hopefully looking forward to start my journey with mews.Highly recommend !!"
- Anju Rai