Teeth are made up of a crown, the white bit that we can see in the mouth, and the root. Within the root of the teeth, there are canals, these contain the nerve and blood supply to the teeth – known as the pulp. Different teeth have different numbers of roots and thus canals.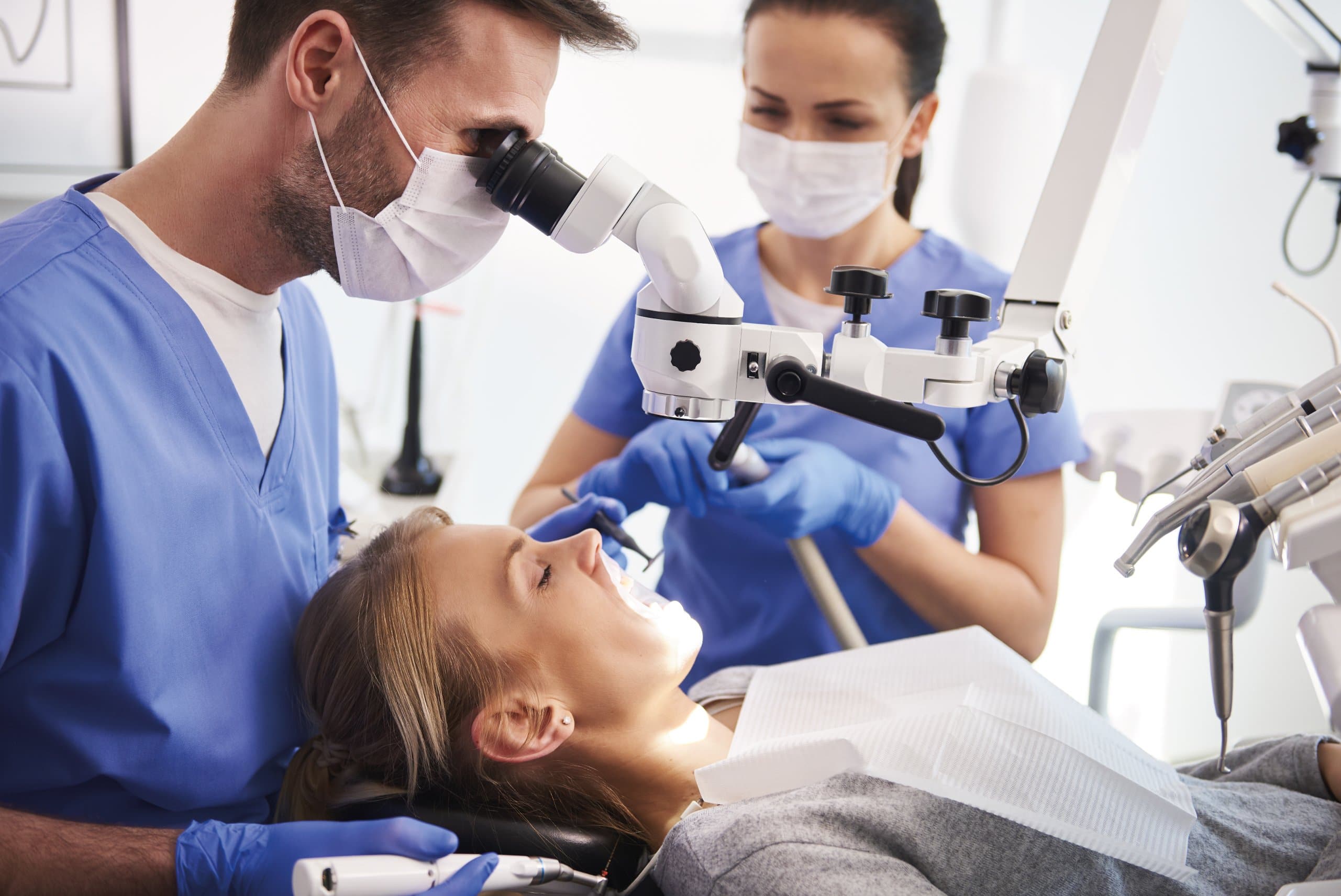 Root canal treatment can also be called endodontics. This type of treatment is needed when the pulp is irreversibly infected/inflamed due to decay or trauma. The treatment may need to be carried out over 2 appointments.
First, the dentist will have to find and gain access to the canals in the teeth, these canals are then cleaned and shaped. This is done to remove the inflamed/infected pulp (which is causing the pain) and to rid the canals of bacteria. The roots of the tooth will then be filled with a natural rubber material and then a final restoration will be placed – this could be in the form of a filling or crown depending on the tooth in question.
Why does a root canal treatment need to be carried out in 2 appointments?
At Levitas Dental Clinic Practice in Guildford, the first appointment will focus on removing the infected tissue in your tooth. The second appointment is where the root canal gets cleaned and then filled with a crown to prevent further infection.
Does it hurt to get root canal treatment?
With advancing technology, root canal treatment should no longer be that painful. You will be given a local anaesthetic, so you won't feel anything during the actual treatment. You may experience some soreness in the few days after root canal treatment which you can manage with paracetamol. Be sure to continue with a good oral hygiene.
What should I not do after having root canal treatment?
may want to avoid eating hard and crunchy foods in the first few days after root canal treatment. Instead, try sticking with soft foods like yoghurt, mashed potato and scrambled egg. Avoid hot food and drinks in the day or two after root canal. Avoid exercising for a day or two to prevent any possible complications. Brush your teeth as usual but refrain from flossing for the first few days at least. You can rinse your mouth with salty warm water to reduce inflammation and ease the pain.
Membership
Levitas Dental Clinic Practice offer an optional membership which includes 7 day access to GP appointments and 10% discount on selected services within the Practice.
All services are also available to non-members.
Book your consultation for Root Canal
"Thank you so much for your amazing registration check up.  I came back and told my family what a treat they were in for in a couple of weeks.  I was super impressed with the whole experience and I'm a nervous patient when it comes to being in the dentist chair.  I didn't even think about most of the procedure because your calm and positive explanations were perfect and your team were brilliant too."
- N
"I was very impressed and my teeth were amazingly shiny and clean after the hygiene treatment.  I will definitely be joining the dental practice as well as the medical. Best wishes and thank you again to you all for looking after so well and making the experience so brilliant."
- G
"I visited the practice for a beauty treatment for the wrinkles on my forehead. Dr Lovepreet and nurse Pujan were amazing. The experience was wonderful and the treatment was wonderful. I would really recommend the practice if you are looking to get some anti-ageing treatments done yourself or for family and friends."
Natalia 
"I would highly recommend Levitas Dental Clinic. I visited the practice last week for teeth whitening and all the staff were super friendly and so professional. Will definitely be going back. "
- Elena
"The mews practice is one of the best practice i have came across.Staff members are welcoming very helpful , friendly.I had an appointment with Lovepreet she was the best and makes me comfortable to share any doubts and cleared all my queries.Hopefully looking forward to start my journey with mews.Highly recommend !!"
- Anju Rai